planeagement
A downloadable game for Windows
Manage your planes as they travel back and forth from your airport to another. Earn money by completing round trips and use that money to buy more planes, upgrades, gates and more. Unlock more airports to get even more money.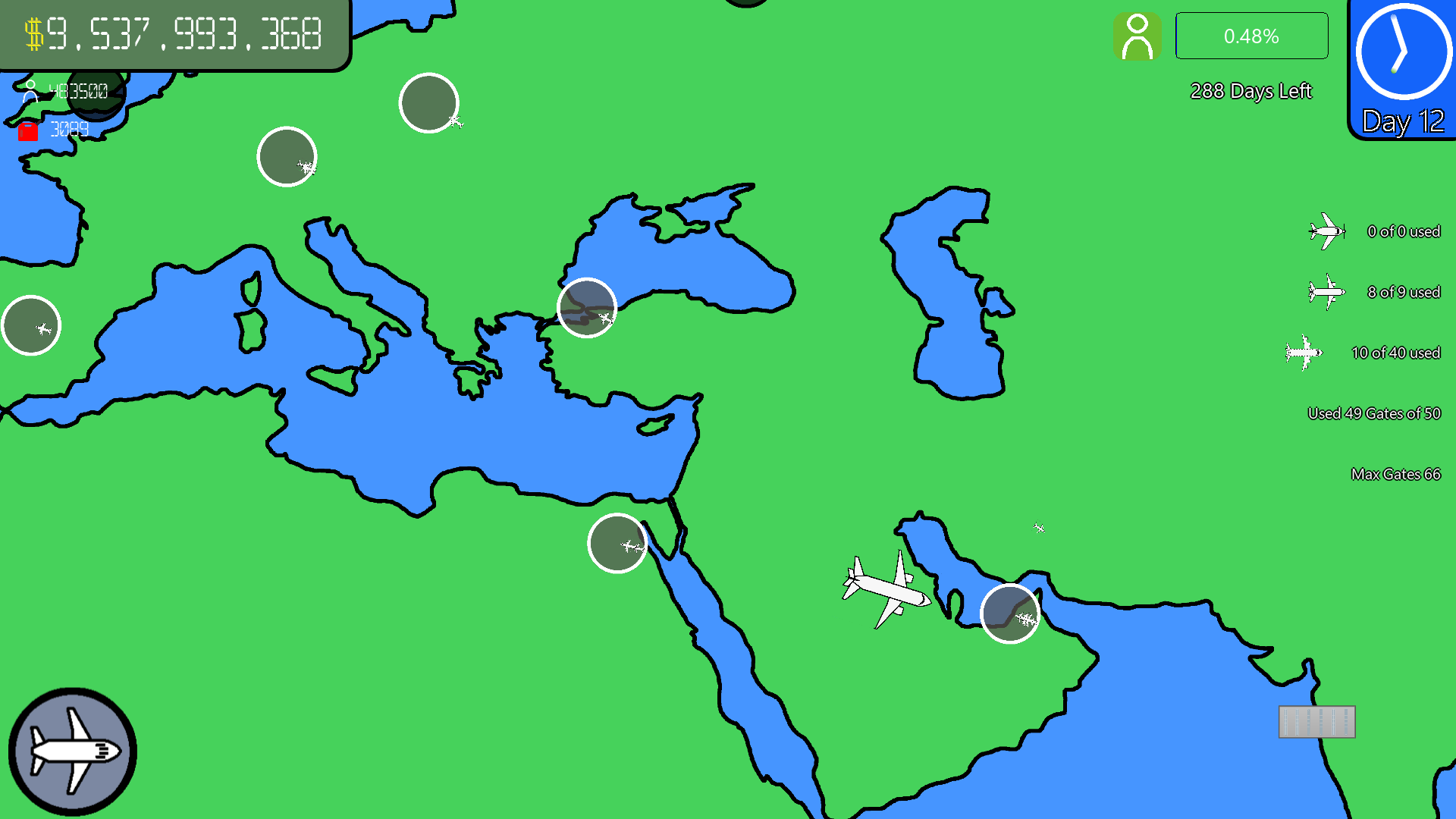 Airports have popularity and reputation. Keeping these both up is key. When you get more popularity, you get more money and more passengers. When your airports hits a limit to how many people it can hold, it will overcrowd. Overcrowding an airport will make the reputation go down. Once reputation or popularity hits 0%, you lose the airport permanently.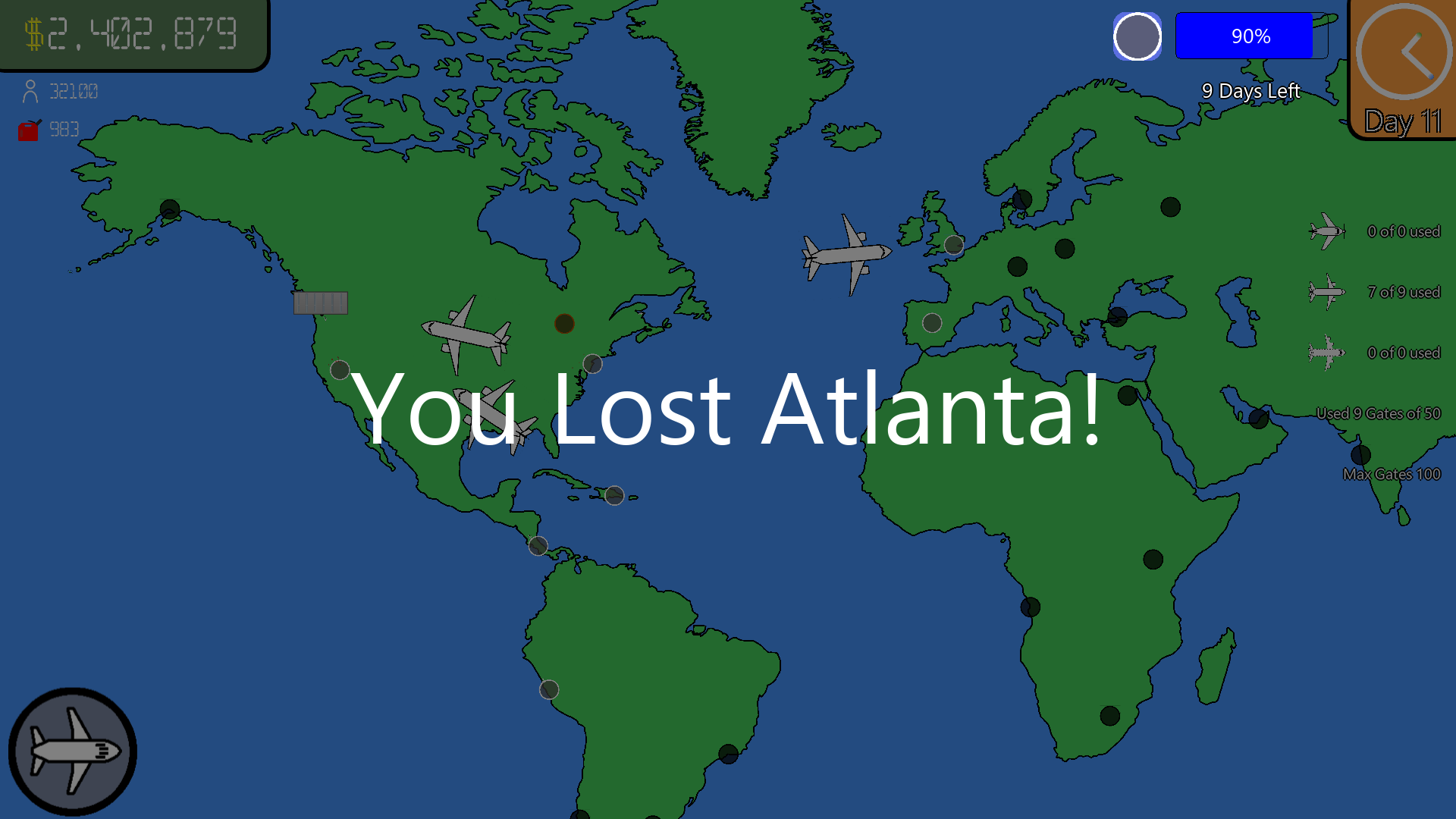 Losing Atlanta
There are 3 different type of planes that you can use: Small, Normal, Big. These are the names that they will always be referred to as. The small plane is, well, small. Holds 30 passengers at first, travels up to 1000km and is the slowest of the 3. Normal holds 300 passengers at first, travels up to 10000km and goes about 920kph. And the big plane holds 600 passengers at first, has no range limit and is just as fast as the normal plane.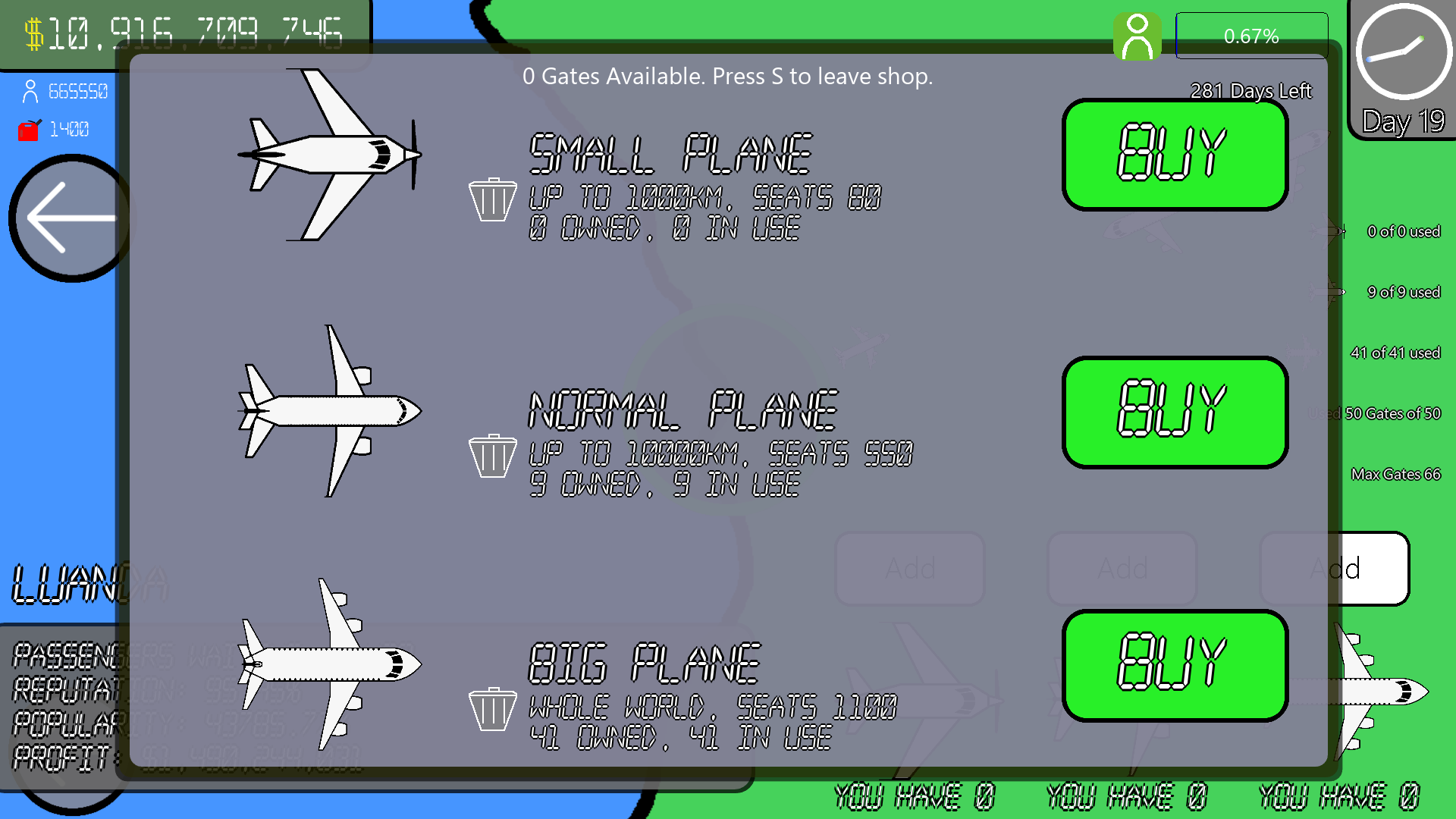 The plane shop
Since having boring planes is boring, you can upgrade your planes and other things too. You can upgrade the the number of seats in a plane, how fast it goes, the failure rate and more. Upgrading your airport is key to this operation, as it grants you upgrade point so you can upgrade many things.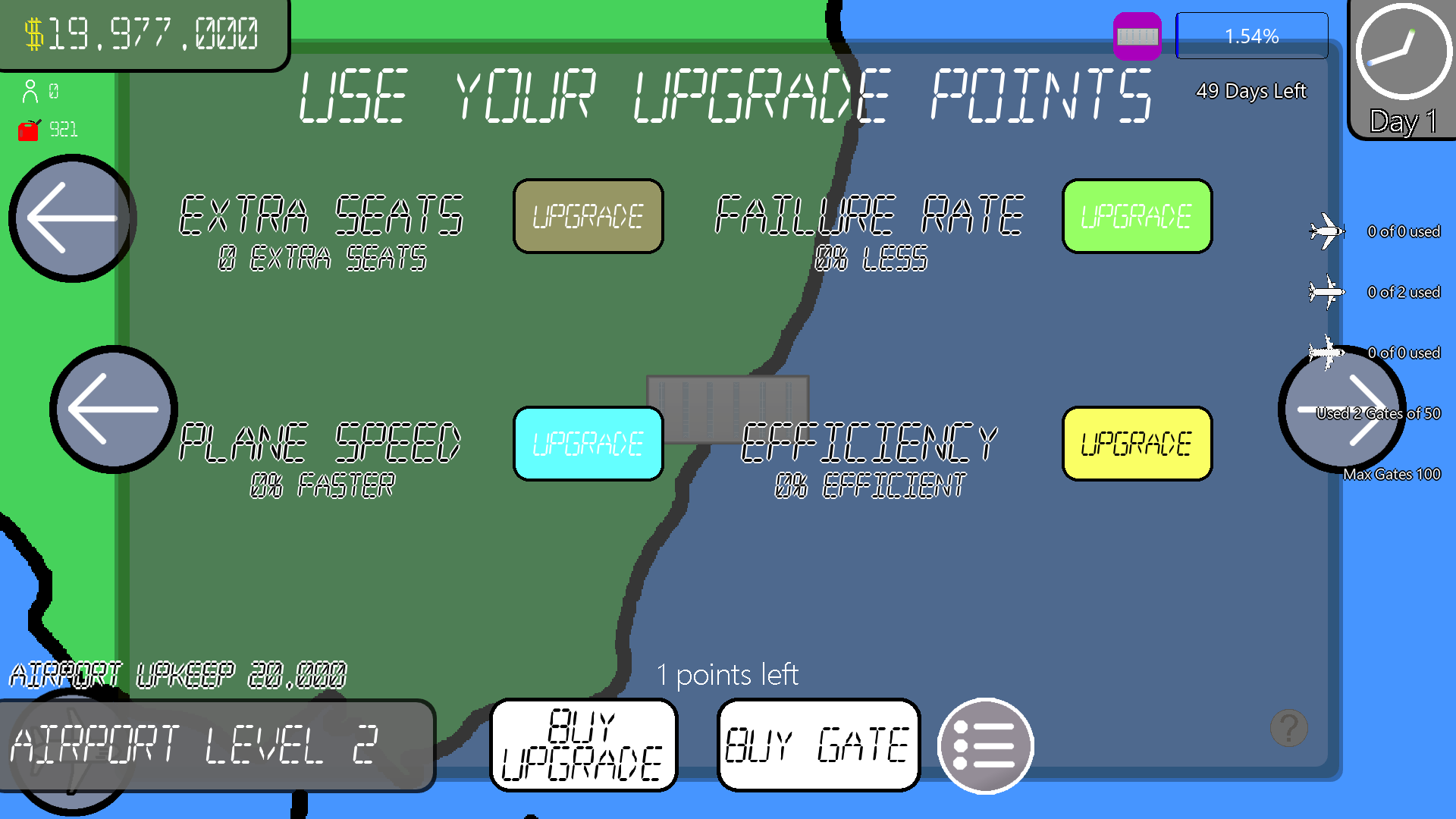 Upgrade Points Panel
There are 90 challenges to play and 30 airports to play on. Play in airports from all across the world with each continent having its own unique song. If you want to play even more challenges, there is a challenge editor just for you. Change your starting cash, planes, gates, objective and more.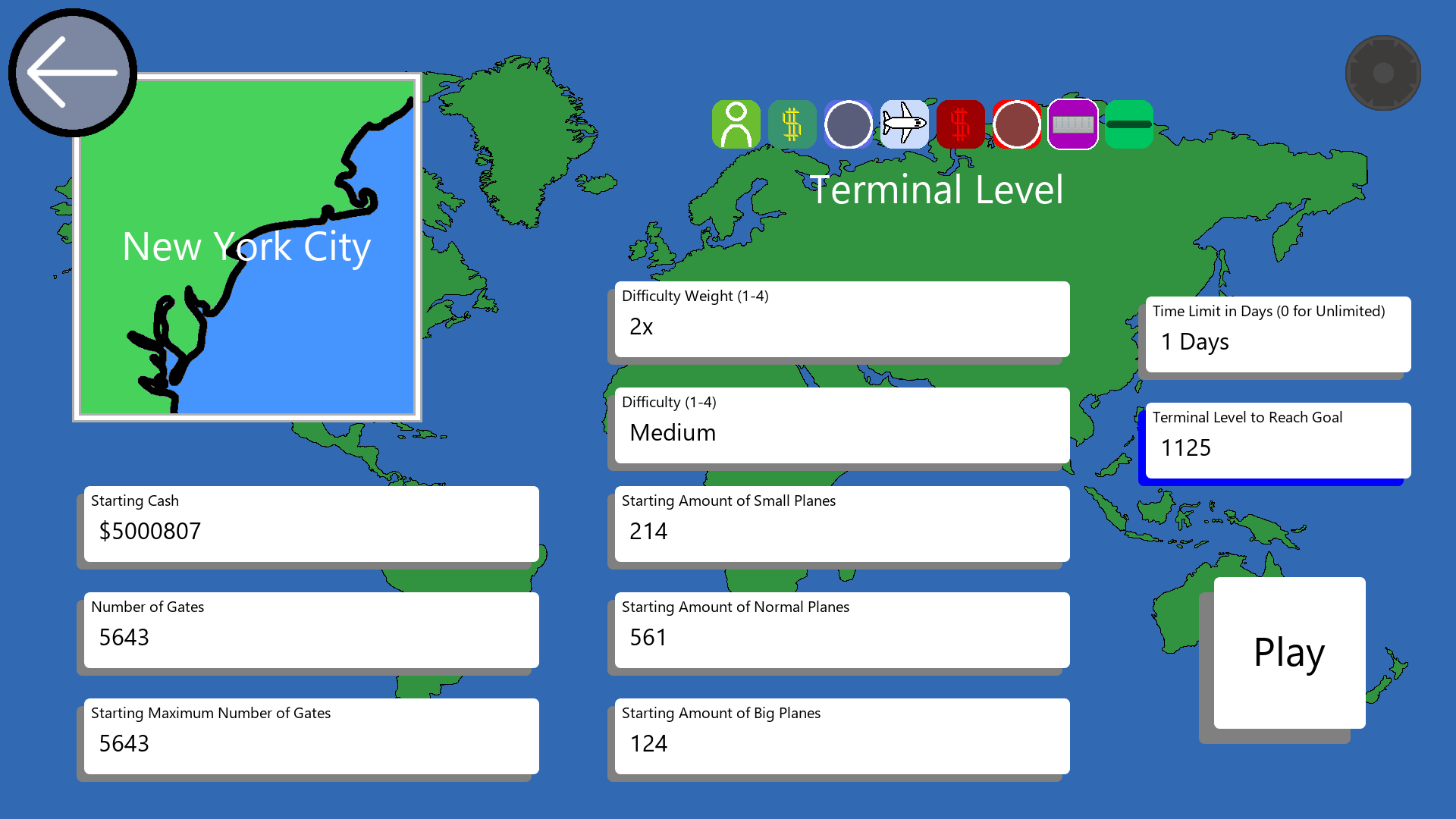 The Challenge Editor
System Requirements
Dual Core, Quad Thread CPU, anything from Intel 6th gen or AMD Ryzen 1st gen onward.
Integrated GPU will work fine, Dedicated GPU will work best when many particles and planes are on the screen.
310MB Storage (HDD will have slower loading times)
Any sound card that won't kill your ears
Any display, although 1920x1080 and up work best, especially ones that don't use fractional scaling. At least 16.7 Million colors, I don't recommend anything less.

Download
Click download now to get access to the following files:
planeagement soundtrack.zip
295 MB